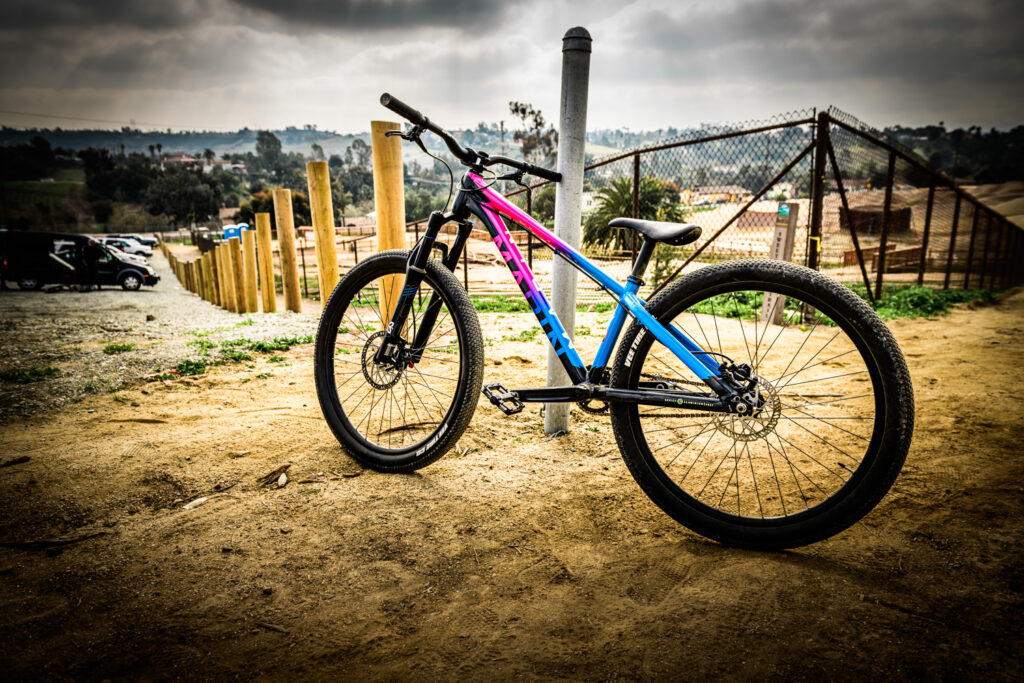 Marin Alcatraz Bike Review
"The Alcatraz was designed from the ground up to be the best dirt jump hardtail you have ever ridden" – Marins Website.
Definitely a bold statement; but is it true?
Check the bottom for this page for newest riding videos!
Some Issues
Below is a time frame to some issues I had with the front Xfusion fork. Marin let go of the customer service manager that was handling my issues. Their product manager stepped in and things were handled quickly.
See the bottom of the blog for more updates.
Update: 3/5/2020
Got in touch with Marin, these guys are on top of it. In addition to firing their customer service manager I will have my fork by Monday! freaking stoked!!
Update: 2/25/20
Xfusion Dealer was going to send a shipping label but everything takes 3 days longer than it should.. still waiting.. I emailed Marin again today still no response.
Update: 2/21/20
Still haven't got the fork fixed. Xfusion got me a new damping cartridge.. but it didn't fit so now i'm shipping them my fork.. In addition to that I've emailed Marin (about 2 weeks ago) and I'm still waiting for a response. soooo ya, not too stoked on that
Update 2/3/2020
So a few issues have arisen.
The bolt that connects the rebound adjustment knob to the fork became loose and dribbled oil on my tire/breaks/as well as the surface at the skatepark. In doing so it seems that I have blown the damping cartridge in the fork. As I found out, the fork Marin decided to use for this bike isn't meant to be operated having the compression locked out. Even though, for a dirt jumper you will want the fork as stiff as possible pretty much all the time. X fusion is getting me a new damping cartridge that I can use "locked out" for $125. This happened on the 5th ride on the bike. On a good note Ryan at Fluid Focus got me hooked up with Mike from Mad Racing Suspension in Nevada and I should have a damping cartridge by the end of the week. .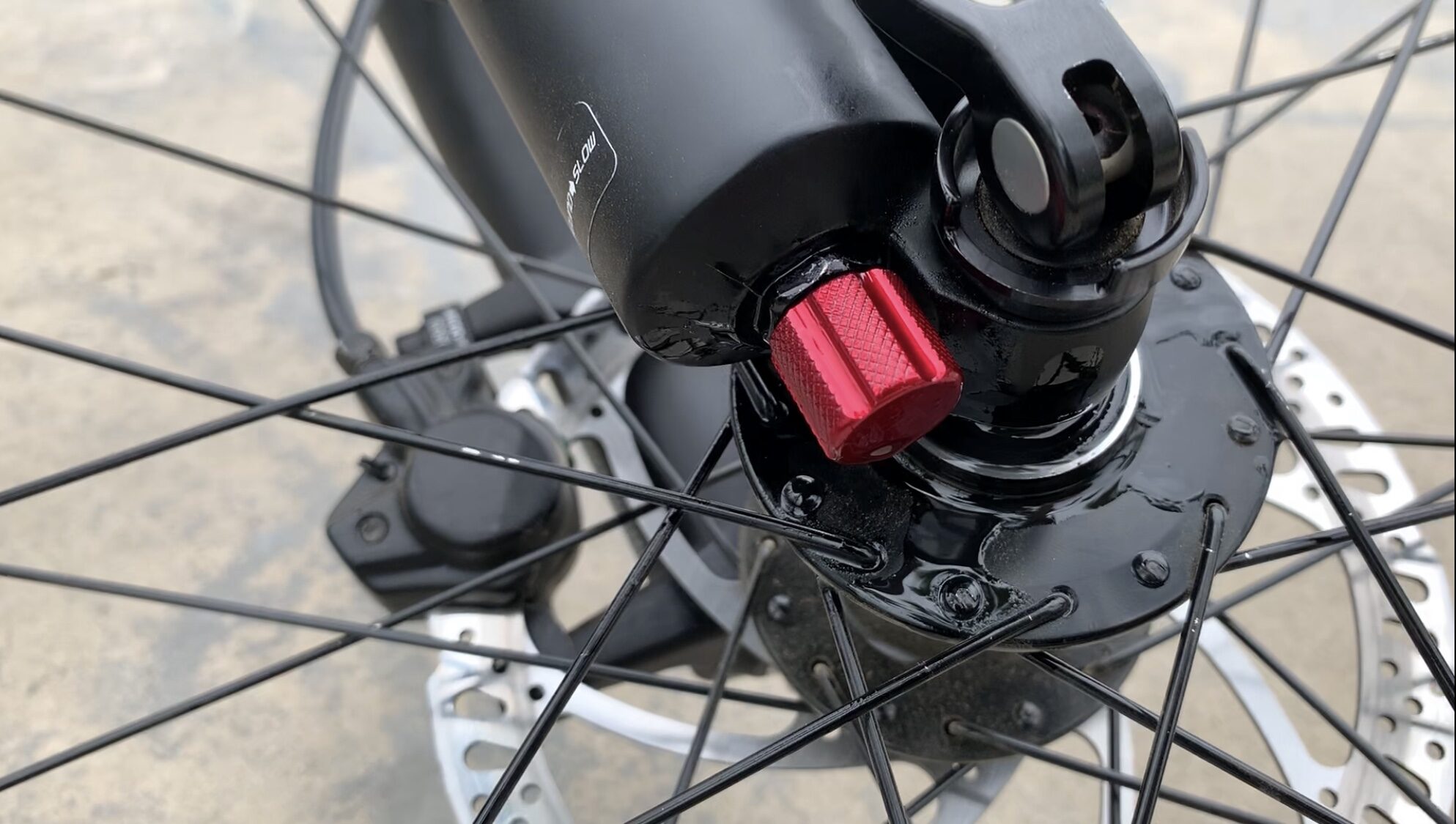 Marin Alcatraz First look
Throwing it back to the late 80's/90's day glow, you will definitely stand out riding the Marin Alcatraz (My opinion in a good way). Maybe that was the plan; Bold paint job to backup bold claims.
Marin Alcatraz Bike weight
*

Marin Alcatraz 2020 bike weight

Added 5/26/20

This seems to be a popular question on the internet. My Marin Alcatraz weighed in at 21.6lbs. The only non stock components I have on the bike are:
Spank bars
Rockshox Pike fork
Wellgo pedals
I don't think any of these would have any significantly change the weight of the bike compared to stock.
Geometry
Sandaning over the Alcatraz the first thing I noticed was the handlebars sitting a little higher (I address this in the video above). That is due to a higher "stack" of this frame, 4-6mm higher than other dirt jumpers i've ridden. At first I wasn't sure if I was going to like that.. Turns out I do.. In addition to the higher stack the Marin Alcatraz also has a 29-34mm shorter wheelbase (than other bikes I've been on). Yet another thing I didn't know I was going to like (Frame specs listed lower on this page). I am 6′, 30″ inseam, 72″ wingspan. Keep that in mind when considering this dirt jumper for yourself.
Handling
Having a short chainstay and wheelbase makes the Marin Alcatraz two things:
"flickable" in the air and over jibs.
"rippable" through transition and corners.
The Alcatraz seems to have a good rake to the front end helping to maintain stability as well. All in a compact setting.
Stability + Rippablity = Awesomeness
Fork settings
This is what I have it set to:
120psi
17 clicks out rebound
compression all the way turned in
The build
The Alcatraz is equipped with components that will get the job done. Even though People will most likely be more impressed with the paint job than your rims. Having said that, the breaks work way better than expected. The X-fusion fork seems sturdy and works well and the tires are awesome!
Headset
*added 7.3.20
Just servicing the headset but I am very impressed with the "beefyness" of the head tube and quality of internals stock on the bike. I think this will last a while.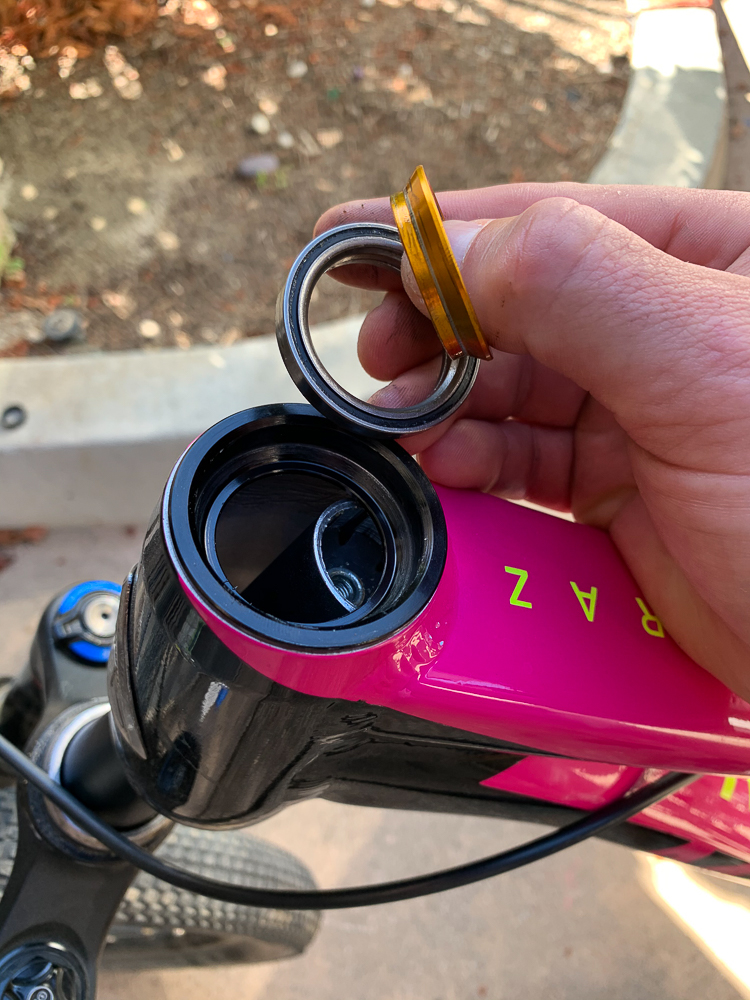 Price
I picked up my Marin Alcatraz for $1250 from a local shop. There are some deals out there better get on it!
Bottom line
This bike is pretty sweet, if you're in the market for a new dirt jumper I would definitely give this bike a look! I believe Marin's claim as being "designed from the ground up to be the best dirt jump hardtail you have ever ridden" isn't a stretch and for me it's 100% true. Some of the characteristics of the frame that I was initially concerned with are nuances that I appreciate. I think Marin really did their homework and turned out a solid dirt jumper!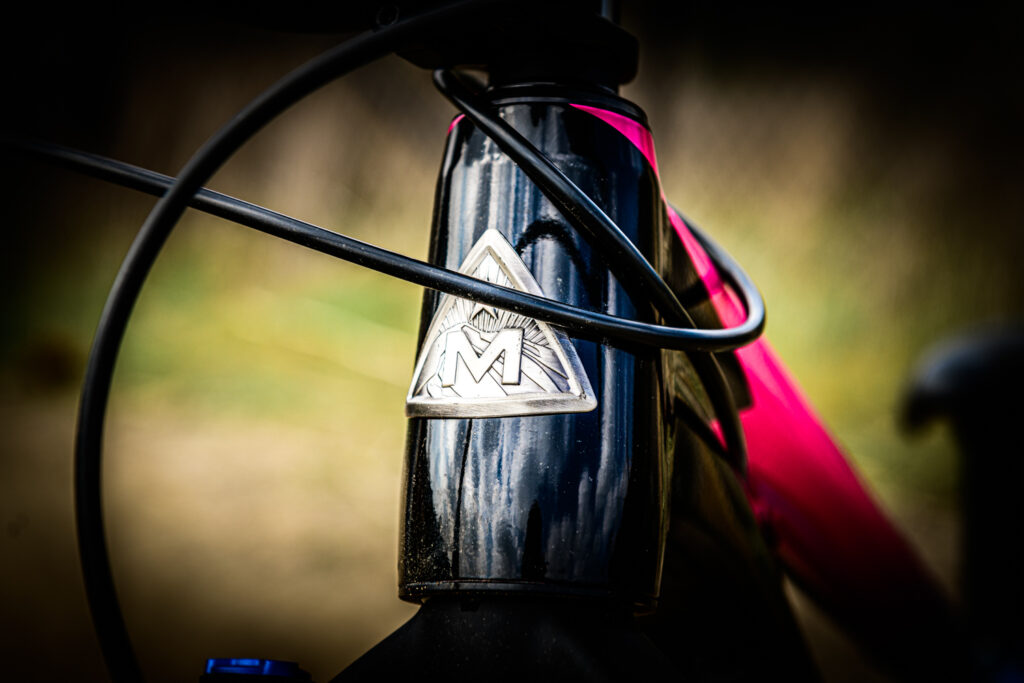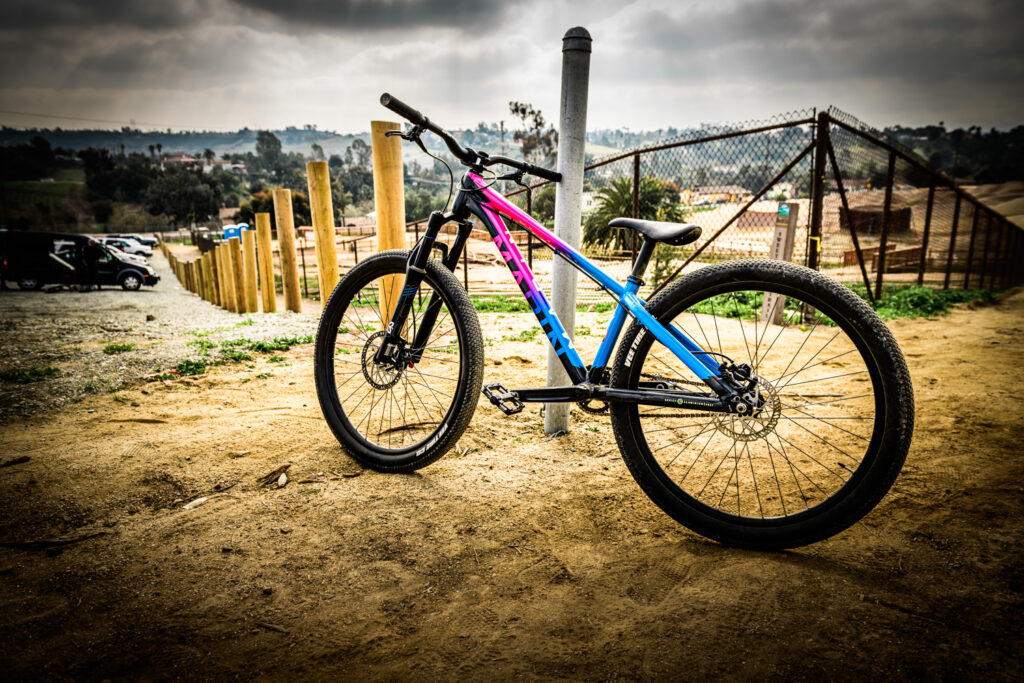 For all your photography needs click here!
get social: check out my
I filmed the review at the Sweetwater Bike Park in Bonita Ca. click the link to check this place out!
Frame Specs
| | |
| --- | --- |
| STACK | 575.5 |
| REACH | 401.84 |
| HEADTUBE ANGLE | 69° |
| HEADTUBE LENGTH | 115 |
| SEATTUBE ANGLE (EFFECTIVE) | 71° |
| SEATTUBE LENGTH | 320 |
| TOPTUBE (EFFECTIVE) | 600 |
| BOTTOM BRACKET HEIGHT | 317 |
| BOTTOM BRACKET DROP | 22 |
| CHAINSTAY | 395 |
| WHEELBASE | 1053.68 |
| STANDOVER HEIGHT | 650 |
| FORK OFFSET | 42 |
| SEATPOST DIAMETER | 30.9 |
| HANDLEBAR WIDTH | 780 |
| STEM LENGTH | 35 |
| CRANK LENGTH | 170 |
| | |
| All lengths in Millimeters | |
| | |
Bike specs.
Update 5.26.20
The more I ride the bike the more I like it. Initially when looking for a dirt jumper I wanted a bike with a larger frame. The Marin feels small compared to other Large sized frames. What I'm finding is this helps getting through tight transitions on pump tracks and trails. I still have the stock tires on the bike and I like the grip they provide. Rims are holding up. The breaks work, the "lever feel" sucks. What I mean by that is pulling in the breaks feels like garbage. Without having piston adjustment on the levers that's just how it is. But they stop and work well in that regard. I now have the RockShox Pike up front and am very happy with that fork.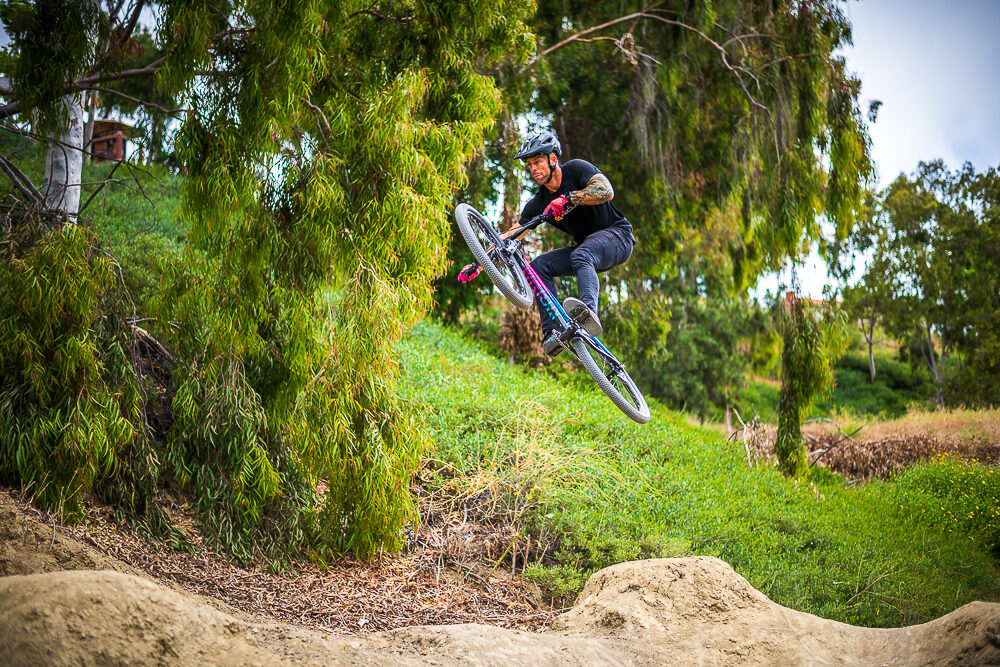 Marin Alcatraz riding videos
Newest YouTube Video riding my Marin Alcatraz
As I have had this bike for almost a year I will be adding the 1 year update soon!
Riding the local pump track
Transfer Lines at the bike park