Meet Lance Weir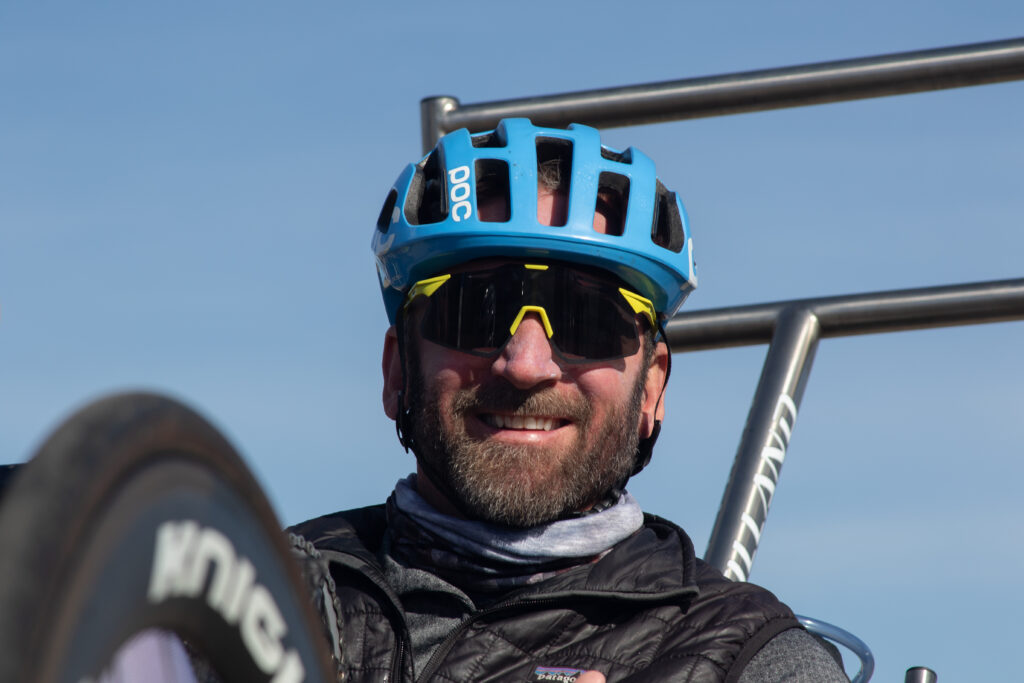 Lance is the reason for this 200 mile excursion. In his early 20's, Lance Shattered his C5 vertebrae and became a quadriplegic. I have been fortunate to know Lance for a few years now. I have also been fortunate enough to both pilot and push his custom bike in those years.
Sitting in the pilots seat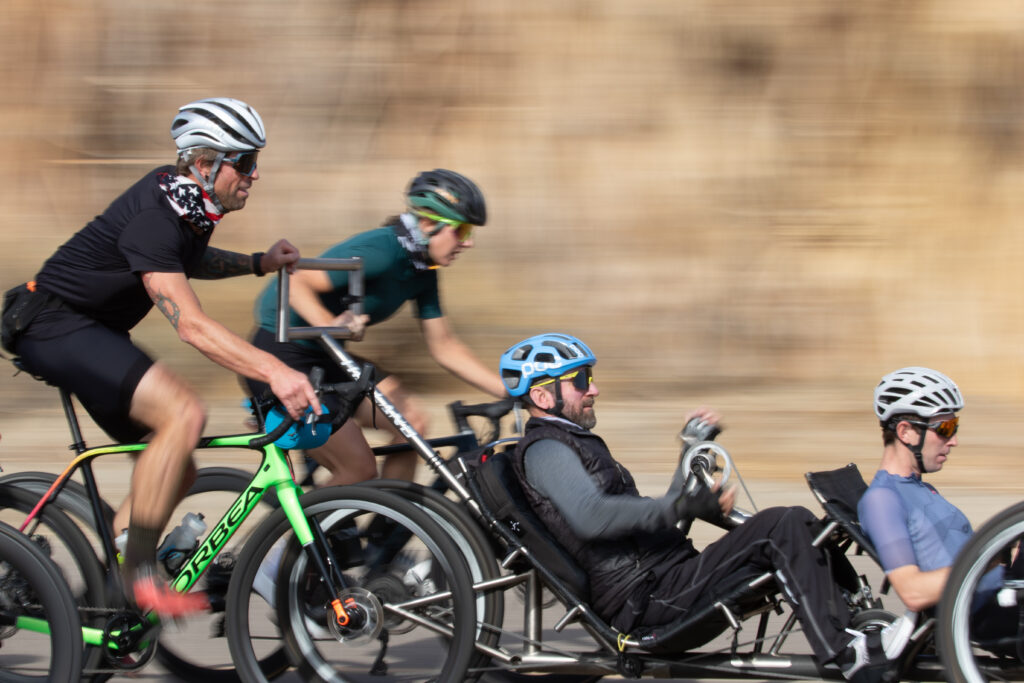 Lance's bike
Engineered by UCSD and custom made by Holland bikes in San Diego California. The bike has:
The pilot of the bike pedals from a seated position in addition to steering and breaking. Lance sits in the back and pedals with a hand cycle. With a clutch system the leg pedaling of the pilot and the hand cycling of Lance both contribute to hauling ass.
What is it like piloting and pushing?
I've affectionately referred to it as the "meat grinder".
I really don't believe that is an understatement. Consider this:
Lance is probably 120 lbs
When I'm on the bike 180 lbs
That's 360 pounds of rolling mass.
With 2 people pushing we can cruise 25 mph down The Coast Highway. Hit speeds over 50 mph coming down from Torrey Pines. As well as climb hills like Torrey Pines in the 10 mph range. Usually when climbing such a hill riders will push the rides on the push bars doubling the pushing potential.
Piloting
When you are sitting in the captain's chair you constantly are pushing big watts just based on the simple fact of how heavy the rig is. Navigating busy streets, road conditions and cornering is hard work for the upper body. While there is some steering stabilization, there is no assistance in steering.
Pushing
Picture this; I'm sure that we have all either participated or seen someone performing a sled push on a field or gym surface. You put some weights on the sled and run, pushing it for 20 or 40 yds. Imagine a 360 lb sled push on your bike that lasts 5, 10 0r 15 min. Where your recovery is then chasing down a sled traveling at 25 mph. To then repeat that process for 200 miles..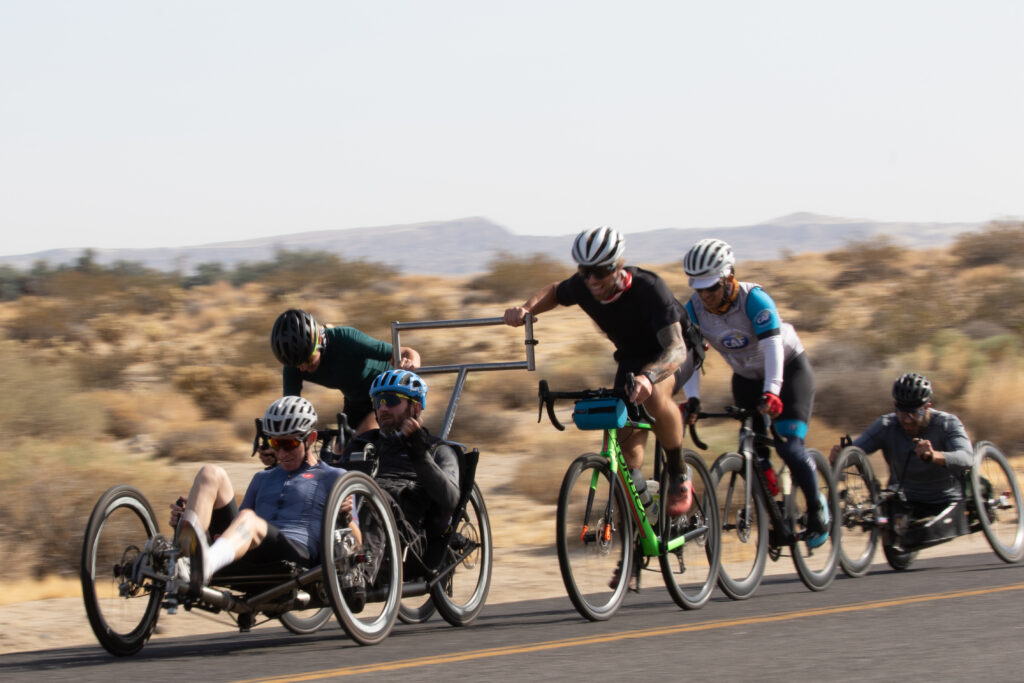 Challenged Athletes
This picture is it for me. There isn't a single person in this photo that isn't currently in the "hurt locker". Greg is piloting, Kathy to the right, I am on the (riders) left. Behind me is Muhammad and Andre, both challenged athletes. Muhammad is cycling with one leg and would still push like hell on the side of Lance's bike. Andre in the hand cycle would do the same. If you ever want a visual representation of inspiration imagine that. The teamwork and comradery of these challenged athletes is amazing. To be able to share a little pain with these guys was an awesome experience.
200 mile ride
They chose Borrego Springs because of the Time Trial World Championship course there. Borrego has flat, wide and low trafficked roads perfect for such an undertaking. Starting at 4:00am in freezing temperatures. The ride would take 12-16 hrs.
Kathy and I joined the group mid morning to push and pilot for 90 miles. While the temperature was comfortably in the mid 60's at this point the wind slowly began to creep up. Ultimately becoming 40 mph sustained wind that would shift and become a head wind at different sections of the course.
Pedaling into that wind, getting sand blasted with desert dirt. Legs burning, not a single word being uttered from anyone.. Grinding..
The saving grace to the horrendous head wind was that the course was a square. A head wind at one point would be a tail wind at another. That would help propel the 360 lbs mass of custom bike to roll at 35 mph in the flats. After a push off the back you would have to fall into the draft quickly or be left behind.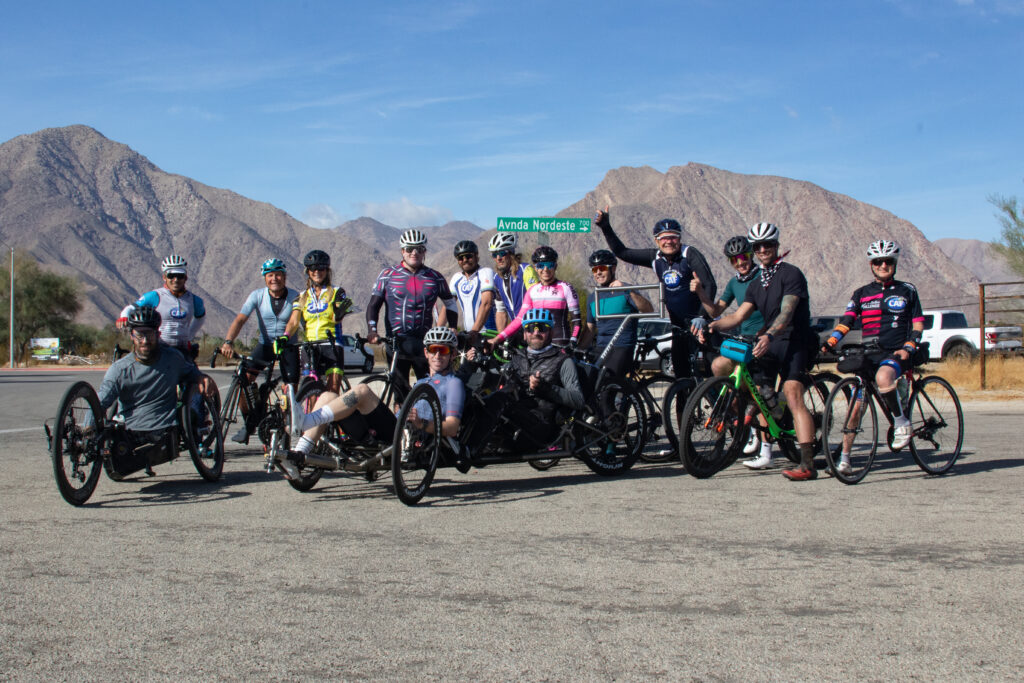 why?
Better question is why not? Lance has found new life through cycling. And through that he is continually inspiring people who think they "can't" to believe in themself and understand that they can. If you have never been around a group like this I would highly encourage you to at some point. Listen to their stories and push like hell!
Remember the next time that you feel that lactate burn in your legs, it is a gift you get to experience that…
Lance also raised over $20,000 for The Challenged Athletes Foundation in the process.
All the photos in this blog were taken by Brian Caldwell a great photographer and awesome guy.
My strava from the ride
My calorie expenditure was 10,500 calories that day due to all the hard pushing.
Stay in touch
Leave a comment or email me!
for all your photography needs check out rDUBcreative
thanks for stopping by!